Veneers
A veneer is a thin layer of porcelain made to fit over the front surface of a tooth, like a false fingernail fits a nail. It can improve the shape, shade and overall appearance of one or several teeth.
Crowns
A crown can help strengthen a tooth with a large filling when there isn't enough tooth remaining to hold the filling. Crowns can also be used to protect a weak tooth from breaking or restore one that's already broken. A crown is a good way to cover teeth that are discoloured or badly shaped.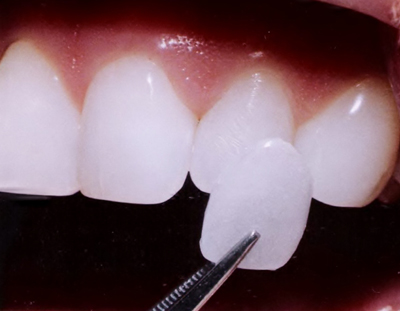 What are the advantages of veneers?
Veneers make teeth look natural and healthy. Because they are very thin and are held in place by a special, strong adhesive, very little preparation of the tooth is needed.
How are teeth prepared for a veneer?
Some of the shiny, outer enamel surface of the tooth may be removed, to make sure that the veneer can be bonded permanently in place later. The amount of enamel removed is tiny and will be the same as the thickness of the veneer to be fitted, so that the tooth stays the same size. A local anaesthetic may be used to make sure that there is no discomfort, but often this is not needed. Once the tooth has been prepared, the dentist will take am impression. This will be given to the dental technician, along with any other information needed to make the veneer. The colour of the surrounding teeth is matched on a shade guide to make sure that  the veneer will look entirely natural.
Will I need a temporary veneer between visits?
Because the preparation of the tooth is so slight you will probably not need a temporary veneer. The tooth will look very much the same after preparation, but will feel slightly less smooth.
How long do crowns last?
On average crowns last between 5 and 15 years. The life span of a crown depends on the amount of wear and tear the crown is exposed to, how well you follow good oral hygiene practices and your personal mouth related habits, i.e grinding and clenching teeth.
How long does the treatment take?
You would usually have two appointments with two weeks in-between. The first appointment would be to prepare the tooth, take impressions, choose a shade and to fit a temporary crown. The second appointment would be to fit the permanent crown.
In certain cases a crown can be made and fitted on the same day. Please see our CEREC ® page for more information.